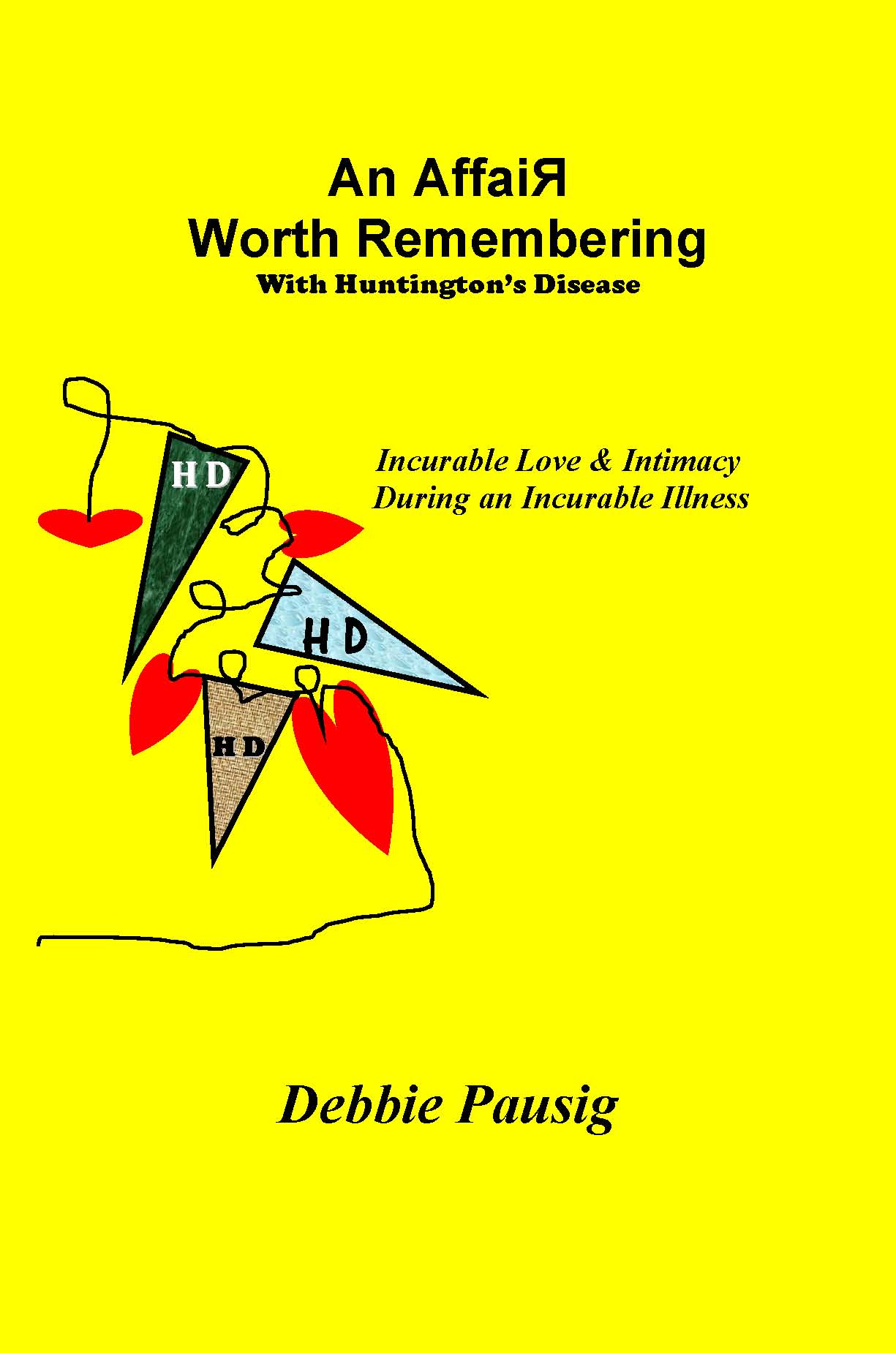 Paperback, 172 Pages
Price: $25.00 USD
Plus S & H
IS NOW IN EBOOK FORMAT! $9.99
http://www.lulu.com/shop/debbie-pausig/an-affair-worth-remembering-with-huntingtons-disease-incurable-love-intimacy-during-an-incurable-illness/ebook/product-22535667.html
An AffaiR Worth Remembering With Huntington's Disease
Incurable Love & Intimacy During an Incurable Illness
by Debbie Pausig

Huntington's Disease is a progressive, life stripping hereditary disease for which there is no cure. LOVE is the most powerful medicine available in living with and caring for a person at-risk and in the throws of it. This is a Love Story that illustrates how a marriage and a family can live, survive and thrive with an illness. Humor, frustration and sadness are just a few emotions experienced by the reader. True Love prevails as this disease bruises and batters a family's spirit. Many gifts are discovered during times of illness. Incurable love and intimacy are two such gifts.
This book is the Author's journey as wife, mother, breadwinner, caregiver and widow/spouse survivor of Huntington's Disease. It is about creating "Awareness" and giving the families affected by Huntington's Disease a "Voice" to a situation that few understand including friends, family, co-workers, and the community. Huntington's Disease is REAL and knowledge of the disease and it's ripple effect on a family is REAL.
This book speaks to at least four communities, those affected by Huntington's Disease or any chronic, progressive or terminal illness; the spiritual community, those who find strength through faith in the most trying moments; the therapeutic community, those who treat individuals, couples and families affected by illness; and the medical community, those doctors and other medical professionals, whether in primary care or specialists, who treat the patient, their caregivers or other family members of the illness, which can complicate the healing process.
Book Talks & Signings:
Debbiepausig.books@gmail.com North Haven, CT, USA 203.985.8246
Purchase via Print on Demand at: www.Lulu.com/content/15318021
Or Purchase HERE via PayPal. Please include your shipping information.
An Affair Worth Remembering with Huntington's Disease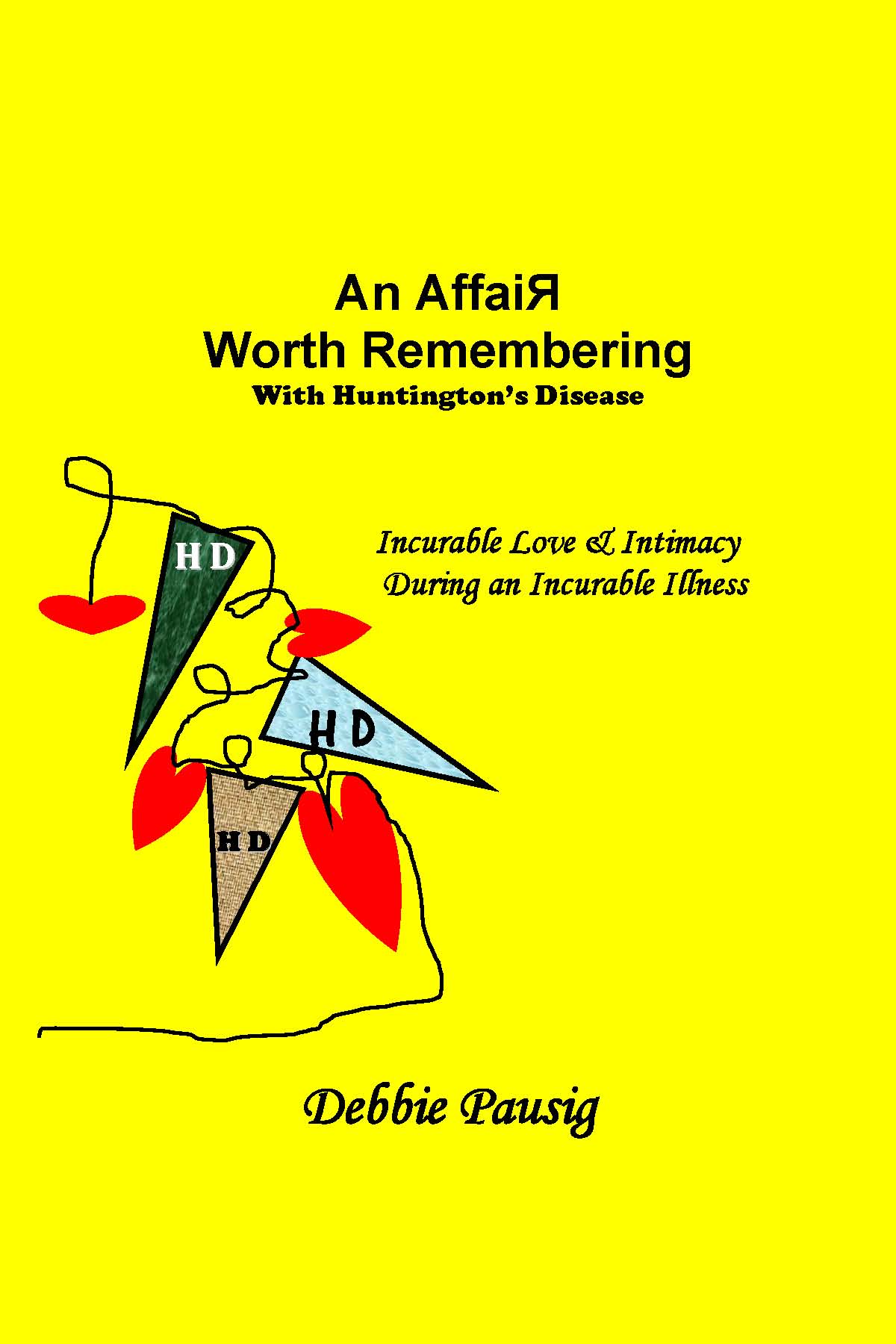 $ 31.17 USD
Includes Shipping and Handling
August 21, 2015: An Affair Worth Remembering is NOW available on Amazon.com!
On August 20, 2015 I was invited as a guest on the CTV (Connecticut TV) talk show Got Girlfriends. www.ugotgirlfriends.com. Here are a few photos. Thanks ladies! The interview will be available to view soon.
Please visit them on Facebook and LIKE
https://www.facebook.com/ugotgirlfriends?fref=ts
Sometimes you need help with life's challenges. Not to worry. You got girlfriends!
info@ugotgirlfriends.com, www.ugotgirlfriends.com!
Comcast cable viewers in Hamden, West Haven and New Haven should look for GotGirlfriends? on public access TV, channel 26 Wednesdays at 10am and Sundays at 5pm. To view previous guests go to www.citizens.org; click on VOD, then click on VOD-CTV (not all shows available).
Now listed in the Southern Connecticut State University (SCSU) Alumni Magazine
Summer 2015 issue page 35
Copy and paste the link below
http://issuu.com/scsu/docs/southern-alumni-magazine-summer-201?e=1560078/13637726
A Peek into: THE TITLE page
An affair: I picture a black tie event where Sean Connery, as James Bond, exits his Aston Martin wearing one of his delicious tuxedos. Not so today, the media and society have us programmed to think and picture otherwise. The simple word "affair" brings to mind connotations and the sensationalism of illicit sex. And then come the questions, so many questions. Who is the affair with? Is it the other woman, the other man, the job? Who is involved? What is involved?
An affair drives a wedge into a relationship creating a triangle. When was the last time you heard of an illness driving a wedge between a couple or family members? Ali McGraw's illness in the fictional 1970 movie, "Love Story", with Ryan O'Neal comes to mind. Two young, married, mid twenty "somethings", deeply in love, whose lives are interrupted by a wedge named "cancer." Trying to "protect her", he attempted to keep her impending death a secret. She, of course, knew better. Their affair with cancer was brief. Their love however was not.
An illness, especially a progressive terminal illness, affects life, love and intimacy. An illness can take a family BEYOND normal chaos and dysfunction. The knowledge of an illness, its lack of knowledge, the illness as a "family secret", the unknown history of an illness, the timing of first symptoms in one's life cycle and a long debilitating progression, are factors that feed the fire of chaos and dysfunction. What trumps all is LOVE. I'm describing the type of love that evolves from young, feel good, sometimes hedonistic, lust and fascination, to a deep caring that spans decades. Deep caring love transcends the mind, body and soul. It is that kind of love for a person in times of turmoil and heartache that life with the illness is worth remembering. It is the kind of love that can endure experiencing the pain of change. It is the kind of love that learns to accept and include an affair with a disease and grow in the midst of it. It is the kind of love that remains after the illness has taken the "life" of the love, not the memory. It is the kind of love that leaves an imprint in the heart of the survivor where it is stored forever.
The "affair" I speak of here is an illness. This illness is Huntington's Disease. The word "AffairЯ" in the title is deliberately spelled with a capital and reverse facing "Я." R is for remembering. When I remember, I look back to the past, not remain in it. I am remembering that my AffairЯ with
Huntington's Disease is worth Remembering. This is a story that involves incurable love and intimacy during an incurable illness. Powerful; Yes. Was it worth the risk of heartache and monumental hard work to maintain and survive; Absolutely! There was no cure for Huntington's Disease for us and there still is no cure. Scientific research is working on this progressive, inherited, life stripping degenerative brain disorder. There was and is no cure for the kind of love that inspires this author and graces the pages of this book. That kind of love, my dear readers, is best left incurable.
Endorsements
This is a love story, a story of relationships, both easy and difficult ones. The pain and love and grace come through very clearly. This book is for everyone. It tells of the conviction, fortitude, strength and love that we must have in the face of life's delivery of unbearable tragedy. It is a spiritual story. One of high hopes, desperate despair, and a return to human dignity that is empowering and vital. I highly recommend this book and I am left wondering about "The sailor who fell from grace with the sea.…"… J. Edward Lynch PhD, Co-author of Principal and Practices of Structural Family Therapy, Co-editor of Messengers of Healing: A New Generation of Family Constellation Practitioners.
As you read this book, journey with the author as she experiences a deep, abiding and incurable love based on faith for her husband as he fights through an incurable disease. Be with her as she lives out the marital promise: "I will love you…through sickness…until death do we part," and discovers that their love can transcend the pain, hardship, loneliness, discouragement and fear of an untimely death. Learn from her that "soul intimacy" is the deepest love possible in a relationship that can last through, and in spite of death…. Mauryeen O'Brien O.P., Author of: New Day Journal, A Journey from Grief to Healing.
Every family touched by HD has a different story. Each story is worth telling. Simply put, this one is a love story. A love that began with a husband at-risk, that grew as they shared the same career, that changed as their family grew, that evolved as developing HD complicated it, and that continues to endure for a Mom and her children who survived the curveballs, complications and all the losses that HD put in front of them. As a woman, wife, Mom, retired police officer and marital and family therapist, Debbie keeps you engaged in their story in a very candid, honest but reassuring way. For spouses who are worrying and wondering about what lies ahead, it is a compelling read. For everyone touched by HD, the story of her HD road is worth telling; and certainly worth reading. Jimmy Pollard , Author of HURRY UP and WAIT: A cognitive care companion, Huntington's Disease in the middle and more advanced years.